BUCK BAITS™ RESULTS MATTER!
Established as leader and offering best in class products have proven that there is more then science behind our effectiveness.
All product undergo several years of field testing before we offer them available to you. We don't rush quality and refuse to bait and switch with smoke and mirror tactics.
Buck Baits wild game urine's are never frozen and always bottled fresh.  Quality and results is our priority not margins.
Our synthetic animal scents are as naturally smelling and designed for results.  A deer's reaction and hunter harvests tell the story.
Not many brands can say they have customers who have enjoyed their products and harvested a buck Six years in a row using the same products each year.  WE Do!
Were Ready!!! Give us a try this season! 
SHOP NOW
ESTRUS MAX™ - #1 Best Selling Lab Certified Doe In Heat At Peak Estrogen Natural Urine.
Mature doe produce higher levels of estrogen.  Higher level of estrogen attract more mature bucks.   Estrus Max™ attracts buck of all sizes and the results have been as quick as minutes after applying Estrus Max™.  Don't take our word for it, see our buck poll and Facebook harvest from real customers results and testimonials.
Share Your Harvest On Social Media Tag #ESTRUSMAX #BUCKBAITS
Buy Now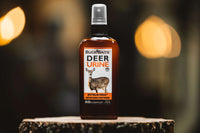 Tag Us On Social Media #BUCKBAITS
DEER CAMP® Coffee Are The Official Brews of Deer Camps!
Why Coffee? Buck Baits™ wanted to offer products hunters needed; both human and animal scents! A winning combo for a trophy harvest.
The traditions and memories start each morning with DEER CAMP® Coffee.
Open year round DEER CAMP® Coffee Roasting Company & Outfitters, is a manufacturing and crafted coffee roasting division, cafe and retail store offering premium and specialty coffees, teas and more. You can find other DEER CAMP® products and merchandise like Mugs, Glassware, Candles, Wild Game Meats, jerky, Seasoning, Dressings, Tumblers, Can Coolers, Beverage Can Insulating Sleeves, Jams, BBQ Sauces and Seasonings, Water, Hot Chocolate.
DEER CAMP® Coffee; a REALTREE® official licensed  partner.
Share Your Memories On Social Media Tag #DEERCAMP #DEERCAMPCOFFEE
SHOP NOW
TV & Media Partners As Seen On Pursuit Channel & Hunt Channel
Buck Baits™ partners with with media partners like REALTREE, Bow Hunter Planet, Nomad Outdoors, Up North Journal, and other national shows. 
Buck Baits™ and DEER CAMP® line of products have been featured on North American Pursuit Channel TV as we'll the Hunt Channel reaching over 133 million households.  
To Learn More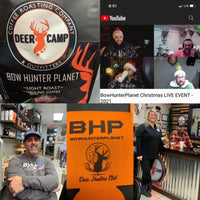 RT-QuIC Tested Deer Urine Now Available!
Buck Baits™ is one of the first manufacturers to offer products using the RT-QuIC test process for cervid Urine and ensures cervid products do not contain CWD.  Currently legal to use and required in States of Louisiana and South Carolina.    Check your local gaming regulations.   All cervid urines are RHSA approved and collected from CWD free herds. 
To Learn More
RHSA | Responsible Hunting Scent Association
Buck Baits™ was the first to feature the ATA checkmark on cervid scent products. Starting this year look for the DPP checkmark. Both products are safe to use.
Industry leaders and scent manufacturers formed the Responsible Hunting Scent Association to provide a forum to communicate effectively with other industry trade groups and state and federal agencies and legislators; and to help develop and manage their businesses in a manner that protects wild cervids while providing quality hunting scent products for hunters. Our goal is to also insure the safety and biosecurity of our urine-based scent products and their sources
The DDP Checkmark is recognized by wildlife gaming officials, outdoor sporting goods and industry buyers. 
Learn More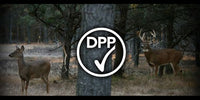 FRESH | CUSTOMER SATISFACTION!
Word of mouth is the nicest compliment we could receive.  We know there are a lot of choices and each day we welcome new hunters to the Buck Baits™ and DEER CAMP® family . 
Don't take our word for it. Experience the #RESULTS!
Results Matter
Testimonials
Thanks to Estrus Max for another great year!  Ticket Is Punched.   Yes there is a difference.  It simply Works!  

Taylor Wade, Iowa ; 3 Bucks In A Row Honor
Putting up stands, I was sweating like a pig and the wind was blowing at like 10-12 mph I thought to myself at this point there is no way I will see a deer the way I am stinking up this area. So I  grabbed that earth cover scent and sprayed down. Had 2 doe come within 5 yds of me and 3 other deer within 30 yds and not one of them picked up me scent.

Buck Farmer MBL Pitcher, Georgia
I shot this 2 1/2 year old buck on 11-3-17. I got a bottle of Buck Baits Deer Urine Estrus Max on 11-2-17 the next day I sprayed it around my blind within an hour this nice 6 pt came in. You can see the results. Thank you Bucks Baits. 

Richard B., Michigan 1st Grand Slam Winner