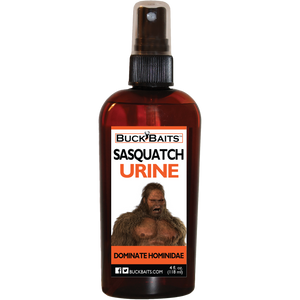 Buck Baits Sasquatch Urine Lure 4 oz.
Regular price $59.95 $8.99 Sale
Buck Baits "Dominate Hominidae" Sasquatch Urine 4 fl. oz. (118 ml)  Bottle With Spray Mister is now available for purchase. 
Buck Baits "Dominate Hominidae" Sasquatch Urine is highly effective tool when baiting, stalking, and also calling the famous Bigfoot.  Sasquatches are very scent cautious especially curious of other Sasquatch in their areas.  You can find use of the urine effective year round especially around mating time when female Sasquatches are in heat. 
Until recently laws restricted the hunting of Sasquatch, also called Bigfoot, (from Salish se'sxac: "wild men") a large, hairy, human like creature that exist in the northwestern United States and western Canada.   This wild game animals are often located in highly forested areas specialty in the U.P. of Michigan. 
Highly sought after and rare, Buck Baits is able to offer this product through a patent pending process, permissions from government officials, and exclusive license to collect using only the most state of the art equipment and collection processes.  We collect and bottle all our urine fresh and it will never be frozen.  We don't store and will ship each bottle to order.  Product has a 1 year shelf life.  Due to the demand, and limited supply normal shipping times can fluctuate. 
How To Use: Apply Buck Baits "Dominate Hominidae" Sasquatch Urine to Buck Baits Scent Anchor Wick and Drags and hang three to six feet off the ground. One or two wicks per hunting area is proven effective. You can also apply several drops to area or mist near brush, on trees, near bait piles, as well as ground cover. It is recommended to re-apply a few drops each time you enter the area.
Please review and be aware of all federal, local, and state hunting laws before using.
Warning: For your safety, it is very important not to apply to persons or clothing. It's extremely effective and can be dangerous if handled incorrectly. Due to the effectiveness of our products, Buck Baits, LLC, accepts no responsibility for accidents and injuries. Do not consume. Keep out of reach of children. Wash hands after use. Use at your own risk and be aware of your environment when using.   
Once harvested, please share a photo of your harvest with the hashtag #BuckBaits  #BigFoot #Sasquatch and post on your social media page and tag us.